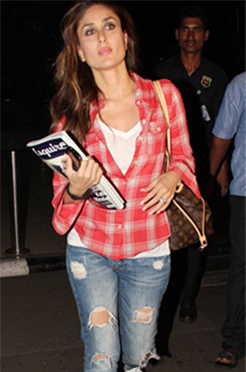 Ripped Jeans & BOLLYWOOD
Growing up our parents would never allow us to wear ripped jeans. Indians felt it was a sign of being poor. Today it is a hot trend and Bollywood stars are rocking them. Karina Kapoor, Katrina Kaif and Priyanka Chopra are examples here.
Ripped jeans have become a fashion trend and have an artsy feeling of expression to them. Some like just a touch of ripping while others like Priyanka may have actually torn hers more to show more skin.
There is a lot of work that goes into making a pair of Ripped Jeans. Not all fabrics are good for ripping. Choosing the right process for creating this rips and precision in choosing the right areas for the look being created.
Ripped jeans really have a way of wowing people if worn correctly and you have chosen the right pair. You can dress them up or dress them down its all how you put it together. Best worn with a T-shirt and a fitted one printed to help make a statement. At HIZ & HERZ we have our Blue Ripped Grace jeans and our Black Ripped Tina Jeans. Check them out the fabric and lycra content are just incredible and the custom fit to all your curves. Pair them up with one of our t-shirts and we promise you a more slimming and very comfortable feeling.
If you don't have a pair of ripped jeans check out our Grace and Tina Jeans. You will love them we promise. Rock the look of these stars who wear them so well.